The wine Zweigelt is probably the most famous type of red wine in Austria, known and loved well beyond Austria's borders and all over the world. The red wine variety Zweigelt was created by crossing St. Laurent and Blaufränkisch. It got its name from Professor Fritz (Friedrich) Zweigelt, who bred this variety in the 1920s.
Zweigelt: Everything about Austrian red wine
Zweigelt is the most widely cultivated red wine variety in Austria, with a total of around 6,200 hectares under cultivation. It is a hybrid vine (created through interbreeding) that thrives in Austria's climate, where there can be colder periods. The nice thing: You can mature the Zweigelt in steel tanks, but also in wooden barrels, it can cover a wide spectrum.
As we know it from other grape varieties, there are also many other synonyms / names for Zweigelt: Blauer Zweigelt, Rotburger, Klosterneuburger. It has only been officially called "Zweigelt" since 1975. Lenz Moser, a student of Zweigelt, campaigned intensively for this red wine.
Zweigelt: the grape variety
The Zweigelt is tailor-made for the climatic conditions in Austria, Germany and generally cooler wine-growing regions. The ripening phase can be critical at times, when the weather is too hot, only cold, too wet, then the grapes can wilt.
Fritz (Friedrich) Zweigelt, who gave his name to him, was often (justifiably) criticized for his political attitude and actions before, during and after World War II, so that discussions repeatedly flare up about renaming the Zweigelt back to Rotburger. You can read more information about this, for example, in the book "Wein in Österreich" by the editors Willi Klinger and Karl Vocelka – here everything has been scientifically processed in a separate chapter (p. 213 ff.).
origin, provenance and ancestry
The short formula of this grape variety is: St. Laurent x Blaufränkisch = Zweigelt. It was bred by Prof. Fritz (actually Friedrich) Zweigelt, he was a botanist and experimented with different varieties at the viticulture school in Klosterneuburg (higher federal institute for viticulture and fruit growing). Here, especially after the bad years with phylloxera, new grape varieties were bred and research was carried out into how the vines and vines became more resistant to vine diseases and how the yield could be increased. This new breed quickly became very popular and Lenz Moser, who incidentally was a student and lifelong admirer of Zweigelt, took care of its distribution. His origin is therefore: LFZ (Federal Teaching Institute) Klosterneuburg.
Demands on climate, soil and vineyards
Which wine-growing regions are actually suitable for cultivating Zweigelt? The Zweigelt red wine vine ripens early, is well-armed against bad, wet or cold weather, and does not have any major problems with powdery mildew. In terms of soil requirements, the Zweigelt breed prefers nutrient-rich locations and locations in which the vines can ripen earlier, which means that there is also a lot of yield. But he doesn't really have any particularly high demands, in the worst case the yield is a little lower. In this respect, it fits in very well with Austrian vineyards, although climate change could also change that if it is now getting warmer and warmer.
growing areas of the vine
There are also wine-growing areas in Germany, for example in Franconia. In Germany it is usually called "Blauer Zweigelt".
In Hungary and the Czech Republic there are many vineyards, a lot of vineyards with Zweigelt – in Hungary, for example, in the area around Lake Balaton (Balatonfüred), often even in organic quality. In the Czech Republic, Zweigelt is cultivated in the Moravian wine-growing region, among other places.
The Zweigelt vine is also cultivated less frequently in Canada (Ontario, British Columbia). In England, the grape variety is called Zweigeltrebe and there are about 1.5 hectares of it. Small quantities are also grown in Slovakia and Poland and there are also Zweigelt wines in California in the USA.
Where in Austria does Zweigelt actually grow, where are the main growing areas? The highest Zweigelt cultivation areas are, for example, in Lower Austria (e.g. Weinviertel, Carnuntum, Kremstal), in Burgenland in the Neusiedlersee wine region (here the Zweigelt also belongs to the varieties in the DAC system), in Central Burgenland it also grows. In Styria (especially south-east Styria) there are around 290 hectares of cultivation area. Its suitability does not apply to the vineyards in the vicinity of Lake Neusiedl.
The Zweigelt (also Blauer Zweigelt, Rotburger) is one of the "recommended grape varieties", partly because it is counted as a type of Vitis Vinifera (more about this can be found in the quality wine grape variety regulation). The Zweigelt is a versatile type of wine, suitable for "old and young", it can be easily expanded, but also mature in barriques (with more or less "wood") to a fine drop, which definitely has storage potential and is therefore one of the storage wines. Sometimes the Zweigelt is also added to cuvées, together with Cabernet Sauvignon or Merlot, for example. Fine rosé is also often made from Zweigelt. This grape is therefore one of the most successful new breeds and has had a strong influence on viticulture.
colour, taste and aromas
The color of the Zweigelt variety is a dark, often bluish-red red. Its bouquet (nose) is usually very fresh and fruity, but can also be spicy. Of course, the taste depends on the development, from berries, plums, green fruits (if harvested too early), cherries, herbal tones, chocolate, banana, vanilla tones and roasted aromas, everything is possible. In the ideal case, the acidity of the Zweigelt wines is well balanced and the tannins are moderate.
Which dishes goes well with the Zweigelt?
Its popularity lies in its versatility and quality: a young Zweigelt can be served with pasta, poultry or vegetables, or rather with light dishes. After a certain maturation period, a Blauer Zweigelt that has been matured in barrique barrels goes better with heavier dishes such as roast beef, shoulder of lamb or stews. It also tastes great with spicy cheese or blue cheese.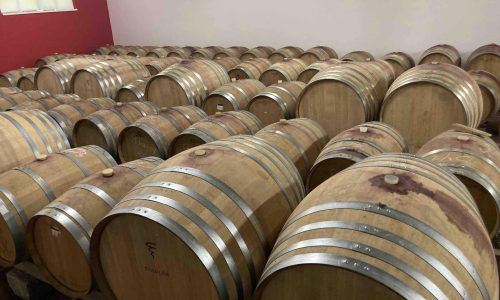 Nestor Zweigelt from Austria
The NESTOR Zweigelt was matured in used American oak barrels and has everything that a DAC Zweigelt needs: it is easy to drink, it is fruity… you can smell dark berries on the nose, sweet cherry on the palate. It has a good draw when drunk, the tannins are pleasant, not too strong and it is simply enjoyable and goes well with any meal.
Zweigelt "NEUSIEDLERSEE DAC", winery STADLER
In the European wine law, wines are basically divided into three groups, one of which is quality wine, and here there is the sub-group of quality wine with DAC. What does this "DAC" actually mean? DAC means "Districtus Austriae Controllatus", so these are regionally typical Austrian quality wines that may only be designated as such if they meet certain criteria. For the DAC Neusiedlersee, there are essentially two varieties: the Zweigelt, which is classic but can also be made as a reserve, and the Trockenbeerenauslese, which tastes great in this region. The Trockenbeerenauslese can also be found in our range in the online shop.
The Zweigelt DAC must be strong, typical of the variety, the alcohol content must be at least 13%, sugar must not be more than 4 grams per liter. There are also other provisions that can be called up in the RIS (legislation for the DAC regulation "Neusiedlersee").
Many red wines are pressed in the Stadler winery, the Zweigelt has always been one of them here, the vineyard area is currently around 10 hectares.
Zweigelt "NEUSIEDLERSEE DAC RESERVE", NESTOR
Our Zweigelt NESTOR "NEUSIEDLERSEE DAC RESERVE" is still allowed to mature in the barrels and will not be bottled until 2023, we are already waiting eagerly and are very happy!
We are happy to advise you personally
We will help you to choose the right wines for your very personal wine experience.