Pinot Gris, Grauburgunder, Grauburgunder trocken
If you are looking for a universal wine, a few bottles of Pinot Gris are a good idea: Pinot Gris is a wonderfully diverse wine, typical aromas are apple, peach, tropical fruits, it can also be floral, sweet and also delicately vanilla taste, it can be dry or sweet. Due to this variety, it goes well with starters, but can also accompany hearty main courses and also cuts a fine figure as an accompanying wine with dessert.
"You love Chenin Blanc from the Loire? Pinot Gris discreetly elegant, not too bold and fruity? With less residual sweetness than typically from Alsace?
Elegant wood and beautiful length?
Then you should try our Pinot Gris Ried Lehendorf".
Pinot Gris: everything about the Grauburgunder (Grauer Burgunder, Pinot Grigio, Ruländer)
The Pinot Gris wine, also known under the name or designation Drusen, Druser, Pinot Grigio, Grauer Burgunder, Grauer Clevner, Fromenteau Gris, Pineau Cendrée, Grauburgunder or Ruländer is a grape variety that has been native to Austria for a long time . It can also be found all over the world. But the original homeland is Burgundy.
Pinot Gris, Grauburgunder : the grape variety
The vine itself is dark brown, the vine leaves are five-sided and dark green. The berry color of this grape variety is slightly reddish to grey, but this wine still belongs to the white wines. The skin of the berries is delicate and sensitive, and you need a sure instinct here, because the grape variety is susceptible to diseases due to the thin skin. It is only fully ripe when the vines turn grey. The berries are known for their dense berries.
origin, provenance and ancestry
The Pinot Gris has so many names that if you want to search for them and have looked up "Pinot Gris" in a wine encyclopedia, you may know one or a synonym (or several synonyms - there are different names in every country: Very early, in the 13th In the 19th century (so it is said) the grape variety Pinot Gris, like Pinot Blanc, was called "Auxerrois Gris", this wine is also a Burgundy grape variety. Other synonyms are Arnaison Gris, Arnoison Gris or Auvernat Gris. But what does "Pinot" actually mean!? Pinot derives from "pin", which in turn stands for "pine", because the grape of this grape variety resembles a pine cone. Which country does the white wine Pinot Gris actually come from, some might ask? About the ancestry: The Pinot Gris was created by a mutation from the Pinot Noir (Black Burgundy, or Pinot Nero), so it is a link and is also related to the Pinot Blanc (White Burgundy), which grape varieties were also involved is not clearly verifiable . In any case, all Pinot varieties are Burgundy varieties, and they are often made into champagne.
Demands on climate and soil
The vines of the Pinot Gris, or Grauer Burgunder have demands and are capricious, they like nutrient-rich soils, a cooler to warm climate and also enough rainfall. The thin skin of the vine also requires careful handling, because once injured, the floodgates are wide open to disease, each grape should be handled as gently as possible. Depending on what possibilities the climate offers, different styles of expansion can be considered, if there are long, warm summers, selection is also possible.
From this point of view, it is one of the grape varieties that grows best in a vineyard with a lot of sun, in the best conditions so that the aromas of this grape can develop in the best possible way.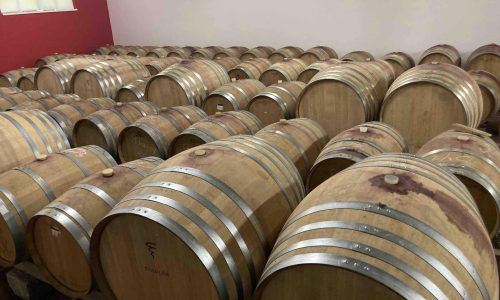 growing areas of the vine
The Pinot Gris, Grauer Burgunder or Pinot Grigio originally comes from France, from Burgundy. Today, the greatest distribution is in Alsace in north-eastern France.
In Germany, these wines are also called "Ruländer", after Johann Seeger Ruland: He bought an overgrown garden in 1709 and found vines there that were unknown to him (the Pinot Gris). After he liked the taste of this fruit so much, he quickly increased the vines and thus contributed to spreading the variety in Germany, at that time still as Grauer Burgunder or Ruländer.
The Pinot Grigio variety is also popular in Italy, for example in Friuli Venezia Giulia. In the USA it grows in California, more so in New Zealand and Australia – so you can drink it almost anywhere in the world.
In Austria, the Pinot Gris or Grauburgunder is one of the rarities, the area under cultivation at 226 hectares (2015) is only around 0.5% of the vineyards in Austria. The Pinot Gris or Ruländer was already cultivated by monks in the 13th century (hence also "Grauer Mönch"), they then also brought the vine to Austria.
The taste or the experience on the palate of the Pinot Gris, its freshness, its scent depend on the way it is made, how long the mash stands – then the color can also turn reddish, since the delicate skin of the berries is almost like a red one grape variety looks like. If the Pinot Gris is harvested late, it can be processed into a Trockenbeerenauslese, but there are also sparkling, fruity Pinot Gris if they are harvested early and aged in steel tanks. The Pinot Gris from NESTOR combines the fruitiness, the sun and lightness of Burgenland with the full-bodied taste that results from the batonnage. Something very special, of high quality.
The Nestor Pinot Gris from Austria
In Austria, a Grüner Veltliner probably comes to mind for many people when they think of white wine, maybe they also think of a Traminer wine. Nevertheless, the Pinot Gris also grows with us: Pinot Gris feels particularly at home in northern Burgenland – the NESTOR Pinot Gris is fermented in wooden barrels of different origins and sensitively refined using batonnage.
If you have any questions about our products, you are also welcome to contact us by e-mail (in our case with SSL encryption: office@neukampundstadler.at) or by telephone (Monday to Friday from 9 a.m. to 4 p.m.: 01/9418333). We currently do not offer newsletters.
You can find the prizes and results that our wines have achieved directly on our home page.
What dishes does the Pinot Grigio go well with?
Pinot Grigio wine, which is traditionally matured in steel tanks, goes well with light dishes such as fish, vegetables or pasta – as do other white wines (e.g. Sauvignon Blanc, which usually has more acid). It is also enjoyed as a summer wine.
The more barriques (wooden barrels) are involved, the richer the food can be: The NESTOR Pinot Gris / Pinot Grigio or the Grauburgunder also pleases the palate and the nose on its own, but it tastes particularly fine with delicious dishes such as Roast chicken. Roland Graf writes, "There are two things you love about oven chicken: crispy skin and a soft filling soaked in juice. And basically the wine Pinot Grigio is already described. The wine should be full-bodied and with delicate roasted aromas. If you have any questions about our wines / our range or about an item such as the Pinot Gris, you can reach us from Monday to Friday on the telephone number 01/9418333 or use our e-mail address: office@neukampundstadler. at, we are happy to answer your questions or help you with the order and provide information on the prices.
One of the many synonyms for the Pinot Gris or Pinot Grigio is the Grauburgunder. Pinot Gris has been growing in Germany since the 14th century, where it is also called that in the wine industry. The content of these wine bottles is usually more alcohol-heavy and heavier than the related Pinot Grigio wines from Italy, a Pinot Gris tends to be lighter.
The Pinot Gris: where is this name used
At the very top, in eastern France, on the border with Germany, in Alsace, Pinot Gris is far away spread. In Alsace there are about 15,000 hectares of vineyards, the special thing is the diverse soil conditions. In Alsace there are so-called "big sites" on which only noble grape varieties are allowed to grow, Pinot Gris is one of them. Up until 2007, the Pinot Gris was also known as "Tokaj", but that is no longer possible, as Hungary has the famous "Tokaj". The Pinot Gris in Alsace is rather dry, has little acid and a wonderful bouquet.
Pinot Gris: well-known wine regions
In Germany you can find really great Pinot Gris in the wine-growing region of Baden (Federal State of Baden-Württemberg), in the third-largest wine-growing region in Germany. There is enough sun and a wide variety of soil compositions here. You can taste that in the wines too.
The Palatinate wine-growing region (state of Rhineland-Palatinate) also offers Pinot Gris good conditions: it is nice and warm and it hardly freezes at night. There is also a particularly outstanding quality here, the Districtus Controllatus Pfalz (DC Pfalz): These top wines can also be made with Pinot Gris, a total of only five grape varieties are permitted.
Pinot Gris is traditionally made rather dry, especially in Germany. Particular attention is paid here to ensuring that the wine is fully fermented, i.e. "ready" and has almost no residual sugar. That's why these wines are so dry.
Due to its dry but fruity nature, Pinot Gris is a popular drink in summer – dry white wines are also supposed to have a cooling effect…
Pinot Gris dry: What does dry mean?
What is the meaning or the term "dry" on the wine label? Dry is not only a personal impression, but clearly verifiable, and it is about sweetness: up to 9 grams of sugar per liter Pinot Gris is allowed and then it must have at least 7 grams of acid (the acidity of the wine may not be more than 2 grams lower be). So here everything is represented chemically and it is just wines that are "fermented through" because there is hardly any sugar left to process. Even if the term "Most weight" or must weight is mentioned, it is about the sugar – it describes the density of the grape juice, if you know this, you can calculate how much alcohol the vintage of this wine will have.
Dry Pinot Gris: What is important?
Pinot Gris is mostly dry, like a Riesling or a Grüner Veltliner. If you have a glass of dry Pinot Gris in front of you, you may be wondering what "dry" actually is… no sugar? Less calories?
The term dry does not automatically mean that there is no sugar in the wine, a few grams can be. Most of the calories we consume while drinking wine are from the alcohol – the sugar content itself doesn't matter much here, a gram of sugar contains about 4 kcal, so that's not a big deal.
What others say about our Pinot Gris, Grauburgunder, Grauburgunder dry
We do our best to inspire wine lovers, wine experts and wine lovers again and again...
"Not a soft drink: Its spicy curry scent shows how serious this Burgundy is - you don't often have it in a glass! It continues to be valuable on the palate. A lot of pressure and some acidity support the mighty framework of mango, almonds and melon. The spicy finish of the 2019 clearly says: There's more to come. But will you be able to wait that long?"
"95 Points - Pinot Gris Reserve Ried Lehendorf 2019: Intriguing and appealing nose of pear custard, star anise, vanilla, caramel and tropical fruits. Supple and impressive on the palate, generous and powerful. long finish"
"VERY GOOD: Firm, nutty and slightly spicy oak scent with restrained yellow fruit aromas, some butter, fine spice and floral nuances. Ripe, tart, quite firmly structured fruit, hints of smoky and nutty oak, moderate acid bite, some mature tannins on the handle, persistent, full-bodied, chalky and salty notes in the background, hint of pepper, very good, tart finish with a touch of alcohol.
We are happy to advise you personally
We will help you to choose the right wines for your very personal wine experience.