What would the world be without Cabernet Franc? The red wine from France would probably be missing everywhere, because it is one of the most popular grape varieties in the world. The Cabernet Franc owes its widespread use primarily to its robustness and adaptability as well as its excellent suitability as a blending partner for high-quality cuvées.
However, the vine is also vinified as a varietal wine of high quality, such as our "Cabernet Franc , Ried Kaiserberg 2020" – dry – NEUKAMP & STADLER Selection – Halbturn.
"Depending on the vintage, our single varietal Cabernet Franc Ried Kaiserberg ranges between Bordeaux style (meaning less pronounced fruit) and typical Cabernet Franc from the Loir (meaning more red berry flavor). Always elegant and precise a reflection of our terroir".
Cabernet Franc: Everything about the little brother of Cabernet Sauvignon
Actually, the name of the Cabernet Franc should not be the "little brother" of the Cabernet Sauvignon, but father or mother, since the well-known red wine variety Cabernet Sauvignon probably originated in France from a cross between the parents Cabernet Franc and Sauvignon Blanc. In any case, its tannin content is, as befits a "little brother", lower than that of Cabernet Sauvignon.
In addition to Cabernet Sauvignon, Cabernet Franc is one of the finest red wine varieties in the wine-growing region of Bordeaux (France), in which the Merlot, Petit Verdot, Malbec and Carménère varieties are also grown. In addition to Cabernet Franc, the red grape variety has many names such as Bouchet, Bouchet Franc, Gros Bouschet or Gros Cabernet.
Cabernet Franc is often only known as a blending partner for cuvée wines: in the Bordeaux/Bordeaux wine-growing region, but also in other wine regions, the Cabernet Franc is often blended into a red cuvée, whereby depending on the variety and region – Spain (here mainly in the Basque Country) , the Loire Valley, the Gironde, France in general, Austria – the proportions of the different red wines can differ somewhat.
Cabernet Franc: the grape variety
Cabernet Franc was created from a wild vine - it is frugal, but likes it warm. The vine is robust and can withstand bad weather, which is why the Cabernet Franc also thrives in cooler regions. Its vines are conical and regular. The grapes or berries have a softer, but still more robust skin than the Cabernet Sauvignon and they also ripen earlier.
Origin and Provenance of Cabernet Franc
Cabernet Franc, the special grape variety of emperors and kings in France and Spain, has been cultivated for centuries. The exact provenance, the origin or the ancestry can hardly be traced today - so there is the theory that the vine, which is said to be descended from wild vines, could come from the Basque Country and appeared in France after the last ice age. Cabernet Franc is the oldest of all Bordeaux varieties, it is a parent of Cabernet Sauvignon, also a very popular red wine. There is also a relationship to Merlot and Malbec.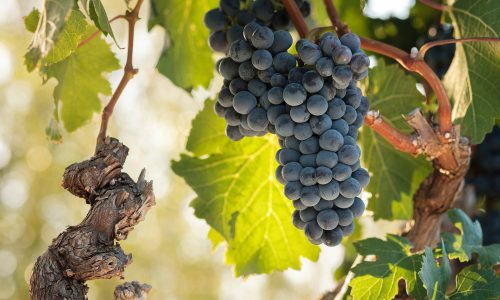 Demands of the Cabernet Franc on climate and soil
Cabernet Franc is not a savage. It is uncomplicated and feels at home on a wide variety of terroirs, even on barren soil and in different regions - the climate must not be too cold. He feels particularly comfortable in good locations, such as the one in the Burgenland region on Lake Neusiedl. Here in Austria, in the Neusiedlersee DAC wine-growing region, the climate is particularly well suited to red wines: long, warm summers with little precipitation and frost-free winters. The Neusiedlersee brings salty air and creates a fine microclimate.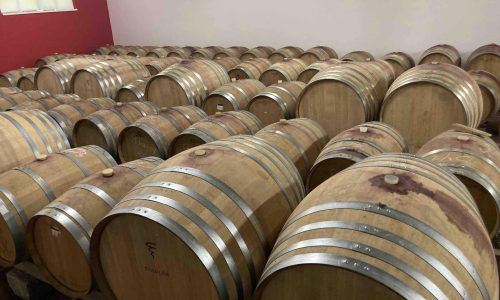 Cultivation areas of the French vine Cabernet Franc
The Cabernet Franc vine is grown almost all over the world: in France, Spain (Basque Country), Austria, Italy, Eastern Europe, but also in the USA (e.g. California), Chile, Argentina, New Zealand, Kazakhstan, Russia, China or South Africa… The largest quantity is grown in France, in Bordeaux, Bordeaux or even in the Val de Loire.
Cabernet Francs in Europe
In Austria, small amounts of the grape variety can be found in Lower Austria and Burgenland, almost 90 hectares (0.2%) of Austrian wine-growing areas are planted with Cabernet Franc grapes.
Apart from Austria, the Cabernet Franc is also cultivated in many other European countries. In France, it is one of the six grape varieties permitted for Bordeaux wines. In Italy it is often blended with other wines, where it is pronounced "Cabernet Frank". In Hungary, the Cabernet Franc is also produced as a varietal, it is also produced in Eastern Europe and in smaller quantities in wineries in Germany and Switzerland.
Cabernet Franc is at home almost all over the world: we find it in Brazil, Argentina, Chile, Uruguay, New Zealand and Australia, but also in Canada, the USA, Kazakhstan, China, Russia and South Africa. Almost nowhere is it cultivated as a single variety, most likely in France and, as mentioned, in Hungary.
Colour, taste & aromas of Cabernet Franc
The beauty of Cabernet Franc, besides its great red color, is the fact that its tannin content is lower, so it can be drunk earlier and is not as astringent as other red wines. It is a universal food companion and can taste fruity from greenish tones (paprika), if the grapes were not harvested quite ripe, to raspberry tones, currants and violets. It is not too powerful, sometimes mineral and fruity, fine and pleasantly drinkable.
The taste, the colour, and the tannin content is determined by the terroir (e.g. limestone soil), the climate and the region, but above all the use of the wood (e.g. barrique) has an effect:
Depending on the drinking maturity of the wine, a wide variety of aromas can be perceived: green peppers, violets, currants, raspberries, strawberries, but also vanilla, tobacco and chocolate can be tasted. Depending on the growing area, the scent or the scent notes can change. The results of wine tastings show how different wines from France taste compared to wines from Austria: sometimes very fruity, then again like paprika or vanilla – depending on how the winery works.
Cabernet Franc and other wines - high quality cuvées
Cuvées are blends of grandiose wines or several grape varieties (blending partner) – just like the joint work of NEUKAMP & STADLER, unique and full-bodied.
For red cuvées, wines or varieties such as Merlot, Cabernet Sauvignon, Cabernet Franc, Carménère, Malbec are usually used. Our wines are matured in barriques made from lightly toasted wood. Grab your largest and thinnest wine glass, swirl this gorgeous cuvée to admire the beautiful streaks, hold the glass up to the light to see the rich color and then it's time for your nose to take in the bouquet of this cuvée enjoy.
Which dishes does the Cabernet Franc go well with?
Cabernet Franc is a versatile red wine compared to other wines. It is an uncomplicated companion, not too wild, which goes well with meat such as steak (also seasoned with pepper), but also with roast chicken or grilled vegetables. The all-rounder among red wines also goes well with dark meats such as game, grilled meat, stews (ideally prepare the sauce with the same Cabernet Franc) and spicy cheeses.
A good bottle of Cabernet Franc should not be missing from any domestic wine rack, so ordering from us is definitely a great idea.
If you have any questions about our products, you are welcome to contact us by e-mail (in our case with SSL encryption) or telephone, we do not currently offer a newsletter.
The prices that our wines have received can be found directly on our home page.
The Nestor Cabernet Franc from Austria
With a size of 7,800 hectares, the areas in the Neusiedlersee DAC wine-growing region are small in international comparison, but they are special: hot, dry summers and moderate winters with little snow. No region in Austria has more sunny days, which gives the grapes an unmistakable power and depth of fruit and thus produces great red wines.
At NEUKAMP & STADLER, we focus on reducing the quantity in the vineyard and planting the lanes with greenery all year round (certified by Nachhaltig Austria). This is followed by a long maceration period with spontaneous fermentation and vinification in different wood qualities. After 18 months at the earliest, the bottle is filled.
You can find more about our wines here:
What others are saying about our Cabernet Franc
We do our best to inspire wine lovers, wine experts and wine lovers again and again...
"93 points Cabernet Franc Reserve Ried Kaiserberg 2019 - 1st place in the variety variety category 2019 - 14% alc. Dark ruby garnet, violet reflections, delicate ocher rim lightening. Fresh heart cherries, dark wild berries, underlaid with tobacco and chocolate, an inviting bouquet. Juicy, elegant, fine fruit sweetness, round fir trees, fine acidity, mineral-salty, already very easy to drink."
"Fruity as only! this Cabernet Franc. Cool scent of blueberry sorbet, with some tea tannins and herbal spices, but also eucalyptus tones. This wine apparently "swallowed" the wood of the 18-month maturation when it was young - resulting in an incredibly juicy "Cab". And a great advertisement for this rare grape variety! Because there is only one expression for a fragrance like this: "It's the kind of thing"!"
"92 points Ried Lehendorf Chardonnay Trockenbeerenauslese 2018 - 9% alc. Firm and quite deep nose, some smoky oak, nutty and herbaceous notes, partly dried and candied citrus fruit, pomaceous fruit and a hint of peaches, a little candy, yellow spiciness and Firmly woven, very sweet, candied and dried fruit with nutty and smoky notes of wood, caramel, candy and ethereal spice, elegant acidity, handle of mellow tannins, persistent, concentrated and deep, yellow-spicy nuances, some honey and beeswax , salty background, very good, firm finish."
"92 Points Cabernet Franc Reserve Ried Kaiserberg 2019: Perfumed juicy black berry and blueberry fruit, fragrant dried herbs, with silky tannins and refreshing acidity""
We are happy to advise you personally
We will help you to choose the right wines for your very personal wine experience.