Chardonnay is one of the most important grape varieties in almost every country in the world and one of the most famous wines. Anyone who decides to search the Internet for the term "Chardonnay" will be overwhelmed with over 54 million entries on the subject of Chardonnay. On this page you can find out how diverse this vine is with an impressive 200,000 hectares of vineyards worldwide.
Chardonnay Barrique: the grape variety
The Chardonnay variety is known to thrive in almost all vineyards, on every soil in the world, the cultivation is uncomplicated and the cellar master has it in his hands to conjure up something great in the winery. The berries are round to oval and have a thin skin. This vine loves calcareous soil, but actually grows everywhere - only then the quality is different because the soil always has an influence on the taste of the grapes.
origin and provenance
Chardonnay wine comes from the Burgundy wine region in France, where it was made from Gouais Blanc and Pinot. It is assumed that the origin / origin is in Burgundy, there is also the small place "Chardonnay", after which the variety was named (Chardon means thistle). The Chardonnay grape is now available in almost every country in the world.
Is Chardonnay Pinot Blanc?
The Chardonnay looks like Pinot Blanc ( Auvernat Blanc, Auvergnat Blanc, Arnaison blanc , pinot blanc, pineau blanc, epinette blanc, gamay blanc ) very similar but not the same wine. For centuries, the two grape varieties were grown together and side by side, but then it turned out that one of the two wines was more resistant to diseases: that was the Chardonnay. Chardonnay can be found in the wine dictionary under many synonyms or names : Chardonnet , Clevner, Epinette de Champagne, Morillon (e.g. in Styria, in Austria), Morillon Blanc, Melon Blanc , Plant de Breze, Melon d'arbois , Norien blanc , Gentil blanc , Wais Edler. So Chardonnay is not a Weißburgunder, but in any case their ancestry is probably similar.
Demands on climate and soil
According to the wine encyclopedia, the white wine Chardonnay grows almost everywhere in the world, relatively independent of the nature of the soil or the climatic conditions, its adaptability is very high, only the late frost can affect the Chardonnay variety. The time of harvest is also important: If the grapes are harvested too late, the alcohol content in the wine is then too high, and it also loses complexity and a refined taste. Otherwise he has no particularly great claims.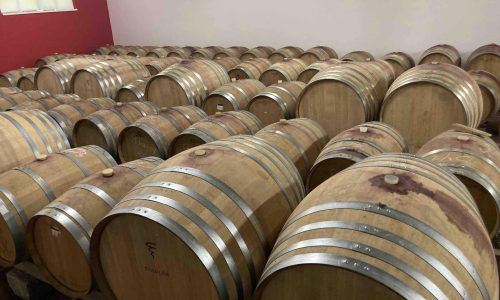 growing areas of the vine
The Chardonnay can be found almost all over the world, the center or the country where the largest vineyard area of Chardonnay is developed is France, for example in the wine-growing region of Languedoc. In Italy, Chardonnay grows mainly in Friuli and Veneto, i.e. more in the north. In Germany you can find vineyards with Chardonnay in Rheinhessen and the Palatinate.
In the USA, it is mainly found in California, but also in Washington and Oregon. Chardonnay wine also thrives in Chile, Moldova, Argentina and South Africa. In Australia, the Chardonnay vine has also been growing for around 200 years.
The Chardonnay grape variety is very adaptable, it grows in hot countries such as Spain, France or Italy, but also in colder wine-growing regions such as England or Germany.
In France there are well-known wine-growing regions where the best Chardonnay thrives: for example Chablis, Burgundy, Mersault or Champagne. In Chablis, the wines are usually aged in steel tanks, while the Chardonnay in Mersault is allowed to mature in barriques.
Champagne is also made from the Chardonnay grape variety, for example the Blanc de Blancs is well-known. In principle, Blanc de Blancs champagnes are only made from white grape varieties, in contrast to Blanc de Noir, which is made from red grape varieties. Some Blanc de Blanc wines only consist of the Chardonnay variety, they can be stored particularly well and continue to mature well in the bottle.
Chardonnay wines from "Grand Cru sites" are particularly fine wines from the best sites, Grand Cru means something like "grown tall" or "great vintage".
In Italy, Chardonnay is more likely to be found in the north, near the Alps. In the past, it was often also used in a mixed set, but in recent years the Chardonnay has also been made into a pure variety. Of course, Chardonnay is also grown in Austria. You can read more about Chardonnay in Austria below.
Of course, Chardonnay is also popular in the New World. Especially in wine-growing areas near the sea, the wine gets a particularly great flavor, fruit aromas such as apple and minerals. In California there is also a lot of sun, which means a nice maturity and then strong wines in the glass. Sensational Chardonnay wines also come from Australia, mostly grown in the south.
The Chardonnay tastes different depending on the growing area. In Austria, for example, the most well-known Chardonnays grow in northern Burgenland. The Austrian cultivation volume of around 1900 hectares (approx. 4%) of Chardonnay grapes provides a wide variety of facets of this versatile wine variety. In Styria, it is usually aged in steel tanks and referred to as "Morillon". The classic Chardonnay, matured in metal tanks, is dry, fruity and smells of pear, apple or guava, for example.
Chardonnay Barrique: the wine
When the Chardonnay is pressed in the winery, it still has a very delicate body and a subtle aroma: The exciting thing about Chardonnay wine is that it responds wonderfully to all influences in the wine cellar, ie its body can be influenced by the way it is aged he more body. If the Chardonnay is aged in barriques or (French) wooden barrels, the storage potential also changes. Due to the many growing areas, there is an incredible variety of Chardonnay grapes and Chardonnay wines, from sweet to sour, light to barrique-developed variants, sparkling to still – basically there is something for everyone (at least that's what we think). at least one Chardonnay variety that tastes good. In addition to the fruity taste, wines matured in barriques also have other nuances and qualities, which in turn depend on the type of wooden barrel and the proportion of older barrels. The cellar master can make an excellent contribution here: buttery notes are possible, but also Vanilla, brioche or caramel tones can arise, a long finish, a great finish is also included. The diverse properties of Chardonnay simply make friends – just try our NESTOR Chardonnay Reserve.
Which dishes go well with Chardonnay wines?
Some know it from the dictionary – white wine with fish and red wine with meat… but you shouldn't limit yourself, because the focus should always be on enjoyment.
Chardonnay wine offers so much to this world: from tangy and fruity from steel tank aging to heavily vinified varieties or Trockensauslese, here you will find a suitable article for every requirement and every dish: As a rule of thumb: the heavier the wine (e.g. a Chardonnay from Burgundy), the heavier the dish can be. In principle, a menu could include a Blanc de Blancs champagne as an aperitif, followed by Chardonnay, which goes great with fish and chicken or grilled vegetables. A Chardonnay even goes well with dessert, for example with a crème brûlée or mousse au chocolat. If you serve a spicy cheese, a Trockenbeerenauslese from Chardonnay wines is also highly recommended and a treat.
The NESTOR Chardonnay Barrique from Austria
Here in Austria you can find Chardonnay wine in these wine-growing regions: in the Vienna area, in northern Burgenland and in Styria, here it is most widespread, there it is also called Morillon.
But how does it taste, our Nestor Chardonnay? Roland Graf writes:
"The creamy passion fruit and mango mix brings summery feelings into the glass (and into the nose). As juicy as an exotic fruit salad, this Seewinkler Chardonnay seduces, tastefully kissed by the sun. The juiciness of a biscuit slice (including delicate vanilla!) shouldn't deceive you: thanks to the acidity, it becomes almost piquant in the finale. Can someone refill this wine please!"
You are welcome to taste our NESTOR Chardonnay in Vienna in the Wine Embassy in the 3rd district, just give us a call on 0043/1/9418333
If you have any questions about our products, you can also contact us by e-mail (in our case with SSL encryption) or telephone (Monday to Friday from 9 a.m. to 4 p.m.), we do not currently offer a newsletter.
The prices that our wines have received can be found directly on our home page.
The aging of the Chardonnay in barrique barrels is of great importance to us, because the months in the barrique barrel, the bâtonnage, allows the wine to gain depth and character. But what does "Bâtonnage" mean? The term is derived from "Bâton", which means (wooden) stick – this used to be used to stir up the fine yeast, which is in the wooden barrel together with the grape juice, again and again, once a day in the first few weeks and months. In this way, the wine keeps coming into contact with the fine yeast and it becomes increasingly creamy on the palate, changing enormously during this time. The maturing time afterwards in the bottle expands the taste spectrum and you can just be happy about such a noble drop.
Differences in barrique barrels
Food and wine were transported in barrels early on, simply because there were no glass bottles. The winemakers soon noticed that the wine lasted longer if it was stored in a barrique – and of course the taste changed too.
A little insight into the history of American Chardonnay wines: When the winegrowers in California tried to "imitate" French Chardonnay wines from Burgundy in the 1950s, they relied entirely on the completely new wooden barrel, with completely new wood – the wines became really heavy, they tasted like butter, vanilla, white bread or bananas and had a lot of alcohol, often up to 16% and more, very creamy, very heavy and sometimes the wine also contained residual sugar and thus a caramel taste. Of course, not everyone liked these aromas, these culinary experiences, and not all winegrowers were enthusiastic about them either. Once a winemaker only had a used wooden barrel from France – he filled it with his Chardonnay and the result was great: on the one hand there were the characteristics of aging in oak barrels: the creaminess, the buttery notes, on the other hand there was the freshness, the elegance of the fruitiness and that with a relatively normal alcohol content of around 13%. This Chardonnay tasted like a wine from France and caused the boom in California wines. Particularly resourceful people tried to enhance the typical barrique taste with oak wood chips that were simply added to older barrels. In this way, they were able to cheaply replicate the characteristics of French wines and were able to produce them particularly cheaply.
French casks contain more tannins, taste less like vanilla than American casks and are considered the more elegant varieties. In the winery, it is then decided which wine goes well with which barrel, how strong the toasting (the barrel is roasted over fire and there are different degrees of expression) is, because all of this influences … the companies have to think this through carefully, because of course it plays here the price also plays a role, because good barrels cost a lot.
White wine aging in barrique barrels
Very old oak trees, sometimes also acacia trees, are felled for the barrique barrels. The particularly thick trunks from which no branches come off must be used. The trees, most of which are over 80 years old, are felled in winter, because at this time no juices flow through the wood and the wood is nice and hard and dry. After that it has to be dried well and can only be processed further months later. Inside, the barrels are roasted with fire (hence "toasting"), depending on the duration of the roasting and the depth of the processing, the most diverse flavors are then created: with lightly toasted barrels it can be vanilla, with medium brioche and white bread tones and finally with Strong toasting can produce tobacco tones. The cooperage profession has changed a lot, and there are fewer and fewer masters of this art.
Why are white wines sometimes aged in barriques when they taste really good that way? White wines are all their own, matured in steel tanks, above all fruity and bursting with liveliness, they have hardly any secondary aromas, this is because they only stay briefly in the fermentation vat together with the skin and then quickly continue to mature in the steel tank. If white wines are aged in barriques, they get fullness and "grip", especially white wine varieties that are not so fruity benefit from this type of aging. Afterwards you have the fruitiness and the popular secondary aromas such as butter, brioche, white bread, banana, chocolate, vanilla, sometimes also roasted notes or nuts… on the palate and the acidity still creates tension. It's always exciting, sometimes different barrels are blended together, that's the art of the vintners' craft.
Chardonnay Barrique Reserve
Chardonnay Barrique Reserve promises only good things, these products can confidently go to the shopping cart, because they are of particularly fine quality, bursting with power and flavor and delight every palate. If you would like more information about Reserve wines / Reserve items and want to know exactly what it is, it is worth taking a closer look and researching, as there are fine gradations in terms of quality and differences in regulations from country to country. In any case, the trend towards reserve wines is continuing.
Where is the term reserve wine used
In general, the designation Reserve Wein on the label of the wine bottle means that something special has been bottled in it, that the wine is older and more mature, that the grape varieties used are of special quality and it can be assumed that it is simply better than the other wines will taste. A wooden barrel is often used, this also makes acid degradation easier. At least in Austria it is clearly regulated, whereas in the USA or the New World everything is not very clearly regulated and it is often just a kind of brand name that just sounds good and is supposed to attract.
Reserve Wine International
Reserve wine can mean different things, a few examples are outlined here:
For example, in the US there is no definition or legal framework for the name/term "Reserve Wine".
In Spain, the wine has to mature for three years, of which at least one year has been aged in wooden barrels. In Italy it depends on the respective wine-growing region, once it is at least two years, but it can also be four years. In some places, a Barolo has to wait five years to be a proud "Riserva". In France there is no legal basis on this subject.
In general, one can assume that the reserve wine of a winery is always a special drop that is already older – or can become even older.
In Austria there are clear rules regarding reserve wine:
It must be a quality wine with an indication of the year, the alcohol content of at least 13% must be clearly stated on the label, and the best quality recommended grape varieties must be used. When obtaining the state test number, you have to pay close attention to the submission date – this guarantees that the wine is already of a certain age; different deadlines apply here for white wine and red wine. When submitting to obtain the state test number, "Reserve" must also be stated on the form.
What does reserve wine mean in Burgenland
In Burgenland, in Austria, Reserve means that the wine must have at least 13% alcohol content and it must be a wine of particularly high quality. These wines are particularly easy to store and will give a lot of pleasure even after a few years, some can even be 15 years or older. In general, viticulture in Burgenland is located on the sunny side, around 2000 hours of sunshine are of course a good thing for red wines, but also for white wines. The most important varieties for reserve wines in Burgenland are: Zweigelt, Blaufränkisch, Blauer Burgunder, Chardonnay, Merlot, St. Laurent and Cabernet Sauvignon.
The following wine-growing regions and grape varieties make Burgenland particularly interesting when it comes to reserves:
DAC Neusiedlersee (Zweigelt, also as Neusiedlersee DAC Reserve)

and

All white quality grape varieties can be used as noble sweet, such as Chardonnay. The Neusiedler DAC Reserve must contain at least 13% alcohol, this is not the case with sweet wines, the residual sugar may not exceed 4 g/litre for dry DAC wines and at least 45 g/litre for sweet wines.

Rosalia DAC: Zweigelt and Blaufränkisch, there is also a Rosalia DAC Reserve here

Mittelburgenland DAC & DAC Reserve: at least 13% alcohol, residual sugar: maximum 2.5 g/litre, only large oak barrels or older barrique barrels should be used here, or just a steel tank, because the goal is very delicate wood tones.

Eisenberg DAC and Eisenberg DAC Reserve: Expansion only in large oak barrels and in barrique barrels, again at least 13% alcohol content and a maximum residual sugar of 2.5 g/litre. Again, the wood should not taste too dominant.
What others say about our Chardonnay Barrique
We do our best to inspire wine lovers, wine experts and wine lovers again and again...
"The 2019 Chardonnay Reserve Ried Kaiserberg was awarded GOLD at the BERLIN TROPHY 2021 and the ASIA WINE TROPHY 2021, the Chardonnay Reserve Ried 2020 Ried Lehendorf received a GOLD award at the BERLIN TROPHY 2022. "
"Noticeably spicy oak, nutty and a hint of butter on the nose with slightly warm yellow fruit and a little spicy aromas. Ripe, creamy, slightly warm fruit again, lots of spicy oak, smoky and roasted notes, some mushrooms, brown butter and a hint of bacon, hints of mushrooms in the background, full-bodied, has some depth, chalky and salty notes on a very good finish."
We are happy to advise you personally
We will help you to choose the right wines for your very personal wine experience.